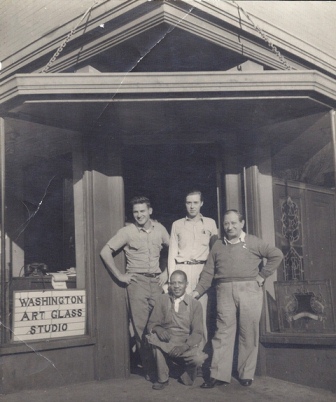 Washington Art Glass Studio was founded in 1924 by my grandfather, Leonard Boertlein. Leonard was a young German immigrant, from a small town outside of Munich who made his way through Ellis Island just after the turn of the century. He settled in Pennsylvania, where he spent 12 years honing his skills with several different studios. In 1923 he moved to Washington, D.C. Shortly thereafter he opened the doors of Washington Art Glass Studio, our small family-run studio thrived, producing both beautiful and functional glass work. 
Soon Leonard's son, my father, John, began work at the studio. He trained under the watchful eyes of his father, learning the intricacies of the craft and bringing his own creative stamp to his work. They continued to work side by side until my grandfather's death in 1956. I am proud to carry on our family's trade. I have always been in love with the beauty of my family's craft, and I spent many hours after school and over my summer breaks working with my father at our studio. In 1977, after graduating from high school, I went to work with my father full time, attending college at night.
My father and I worked side by side until his death in 2017.  I am proud to say I now work side by side with my son, Jake. Washington Art Glass Studio is still a family owned and operated studio. Since we are a relatively small studio, we can give our clients the personal attention they deserve. Over the years, we have worked in hundreds of Washington churches, synagogues, museums, the United States Capitol, many homes and restaurants in the area.
As our reputation for beautiful, quality glasswork has grown, our client list has expanded. Over the past forty years we have accepted commissions from around the country. We enjoy our work and believe our clients receive a part of our family's history with every window we produce. We strive for perfection and uphold the highest standards of our craft which has been passed down through the generations.
– Jed Boertlein, Third Generation Owner
"Stained Glass is new
each time the sun comes up"
- John T Boertlein,
2nd generation owner